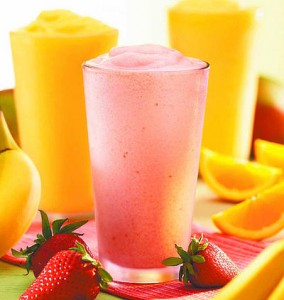 Need something quick for breakfast, a pick-me-up after working out or just a yummy, not-so-guilty treat?  Try one of these.  For me, the key to a really great smoothie, is freezing the fruit. It eliminates the need for ice, which can water down the smoothie.
Here's how to freeze the fruit: Slice bananas, lay on a cookie sheet and place in the freezer. Once frozen, place in a zip top bag until needed. Same for capped strawberries (can leave whole), peaches, blackberries, etc.  This method helps them not to clump together. Plus, it's a great way to preserve the fruit for another use before it spoils.
Here are three of my faves:
Banana Cream Pie Smoothie
1 cup frozen banana  (one large one)
1 cup vanilla lowfat yogurt
1/2 cup lowfat/skim milk,
2 Tblsp. crushed graham crackers, I use wheat germ/ground flax seeds
1/2 tsp. vanilla extract
Process in blender. Yields 2-1 cup servings. It is like a rich, banana milkshake.
Berry Banana Smoothie Continue reading →