"There is a time for everything, and a season for every activity under the heavens" Ecclesiastes 3:1 
Fall is finally here [Editor's note: Well, that was quick- we woke up to freezing temperatures these past few mornings!]. I personally love fall. I mostly love when the trees begin to change colors. It's a great reminder that God doesn't leave us in a "season" too long. Scripture tells us there is time for everything. Every person experiences seasons in their life. However, unlike our climate seasons, not everyone's seasons will look the same or happen during the same timeline. We don't have a calendar to watch telling us when our season of mourning will end or when our season of new things will begin.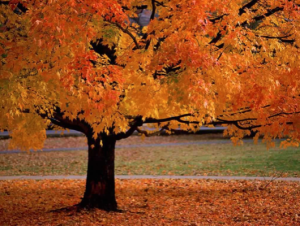 We are to wait and trust in the Lord. Sometimes we try to rush our seasons and don't take time to "stop and smell the roses". In other words, we don't stop to see what God is teaching us or stop to recognize the joy and peace in the midst of the storm or a sunny day that He so graciously gives us: "Be still and know that I am God." Psalm 46:10.
For me, I like to view the leaves changing colors during Fall as a depiction of our hearts being transformed through Christ. [Tweet "Once the 'leaves' fall, it's time to allow pruning of our hearts and preparation for spiritual growth."] It's time to apply what we learned through the previous season in the new season that's beginning. When Spring comes back around, we have new buds to bloom. When we have allowed God to prune us and transform us, our new leaves are greener and renewed in Him: "Therefore, if anyone is in Christ, the new creation has come; the old has gone." 2 Corinthians 5:17.
The point that I hope you will understand is that no matter what season you are in right now or just coming out of, God is always with you. May your eyes be open to what God wants to show you. May you be willing to be pruned. May you be willing to be transformed. May you be willing to allow Him to use you for His glory. May you be content where God has you. May you be willing to worship and praise Him no matter the circumstances. May you FALL INTO HIM during your season.