On Behalf of the Simplified Family, I wanted to share two really wonderful tools to inspire your kids to get closer to Christ. They're already plugged in, so why not use that time in a really positive way.
Bible for Kids by You Version
Bible for Kids is a free app for your smart phone. It's brand new and it's very interactive. After hearing and reading the stories, the kids are asked questions and receive points for their correct answers so they are truly engaged in the stories. I especially love the animation. Each scene comes to life by touching the screen.   For example, when they touch the characters, the people all cheer when they hear that the paralyzed man was healed. Kids will love feeling like they are a part of the story.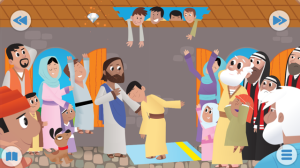 One of the really great features of this app is that kids can launch the You Version Bible app to read further. And within the You Version Bible app, you'll find all kinds of devotionals for families and plans to help you and your kids really dive into God's Word.
Enjoy this wonderful app with your small kids on the way to school or spend time together before bed. As this app has just been launched, they are working on adding more and more stories all the time so be sure and update it regularly to find out what's new.
Another great app that my slightly older kids and I use every day is
Jesus Calling For Kids.
We've all experienced Jesus Calling by now I'm sure. It's one of the most profound devotionals we've ever had. Well, along with the Jesus Calling for Kids books, they've developed a Jesus Calling for Kids app and it's wonderful. It's costs under $10 and it's well worth every penny when you look back at the family time it gives you back.
Every morning on our ten minute drive to school, all I have to do is hand my son the phone and he knows that it's devo time. The entries all coincide with the original Jesus Calling books, but these are written in a way that speaks right to kids. It takes about two minutes to read the passage and then we find ourselves talking about it  until they get out of the car. They go into school energized, inspired to serve, and confident in their faith. I've seen many sleepy, even sour faces turned around in the morning after one of our Jesus Calling devos.
I hope these apps make for some really invaluable family time with God.
Happy simplifying.
-Kelly Breece
reposted from thesimplifiedfamily.com