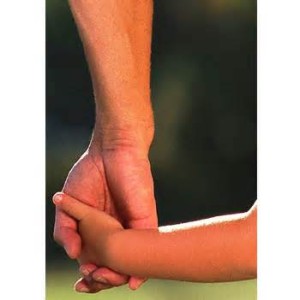 I got a machete for Mother's Day. Yep, you read that right a machete – no typo, no mistake. Also got a compound bow. Now before you start feeling sorry for me and saying horrible things about how my kids can't give a decent gift, let me set the record straight. I was thrilled – beyond thrilled – ecstatic! It all started with my youngest rolling up the driveway and telling me to look in the back of her pickup. (Yep she drives a pickup. Isn't that great?) There lay a compound bow and arrows. Cue me gleefully jumping up and down. Then daughter number 2 and her husband roll in and hand me a machete and a sack of cantaloupes. Live action game of fruit ninja is on!
After seeing my post on facebook regarding my gifts, I had a buddy stop by the office. All he could do was shake his head and ask why? Why would I get such gifts? Did I always want to shoot a bow? Did I want to go hunting with it? Was my lifelong dream to chop up fruit with a machete? How do I explain the crazy thing that is my family? Easy. Never content to live my life on the sidelines, I LOVE to try new things whether it's rugby, rock climbing, or shooting a bow.
This spirit of adventure is handed down to me from my father. Dad once told me that he didn't want to die until he had tried it all. He sure gave it a go. I remember him playing softball at 70, knees so bad he couldn't run the bases. He was headed up to bat and looked at me and said "I got to hit it really hard so I have time to get around the bases." He never gave up.
Dad was diagnosed with colon cancer and only lived a year but he put a lot of life in that year. The best memory during that time was the day he got to go up in a hot air balloon. Someone brought one to Cedar Hill of all places. Dad's whole face lit up and he was first in line. I have a picture of him high up in the air and love the wonder on his face as he looked out from that basket. God truly cared about his joy and provided that wonderful experience for him.
I am so grateful for parents that loved life and taught me to embrace every adventure that crossed my path. They both loved God fiercely and didn't send me to church but took me – sometimes drug me. They were the parents who chaperoned all the church campouts and lock-ins. At home, everything was reinforced without fail. They lived a good, honest lifestyle with integrity and love for everyone around them. They taught me to serve at church without complaint because it was for God, not man.
Dad died the Wednesday before Father's Day almost 20 years ago. Intuitively, my boss's wife gave me the day off to spend with Dad not knowing it was his last. Even that last day was an adventure. A friend came by with his guitar and we sang together. Sitting on a chair outside, he watched as I worked in his beloved garden. He went through his few precious belongings telling me who he wished to have each and why. At the end of the day, the preacher came by and Dad told him it was time. Instructed to go back to the church and pray for Dad to go to heaven that night, he left and we gathered around Dad and were left with his final words "Don't you dare mourn for me. I will be in a better place and I will be happy." I spent the last few hours at his bedside – just me and him – as he got closer to heaven. I will never forget the moments he re-lived that night. Straining against my hand holding his as he attempted to put the mules in the barn, plow the field, or reupholster a chair. His life was truly flashing before his eyes, and it was a happy life. That memory is burned into my soul.
As I spend the afternoon with my kids shooting bows and arrows and slicing up cantaloupes with my machete, I can't help but think how much my Dad would have enjoyed being there with us. And yes, he would have been right by my side, machete in hand while we shot those arrows.
Train up a child in the way he should go; even when he is old he will not depart from it. Proverbs 22:6
Miss you Dad!
Carol