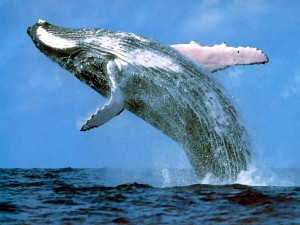 Did you know there are at least two documented cases (Baxter, Explore the Book) of men swallowed by sharks or whales who lived to tell about it? That and Jesus' words in Matthew 12:39-40 prove to us that the story of Jonah is more than a fairy tale! What can leaders learn from his life and experience?
Jonah's life was interrupted by God's assignment to him to tell the city of Nineveh to repent. When we read the book of Jonah we see what happens to a man whose life was interrupted. What would yours be? Do you like interruptions? I don't. But that means I am not open to divine intervention.
Three things we learn:
1. God didn't need Jonah any more than he needs us to do His work.  But we GET to do it.
Throughout the book of Jonah we see God as sovereign, deliverer, merciful and righteous. He doesn't need us at all, but gratefully He chooses to use us in this world.  Do we see serving as a gift? A privilege?
2. When the assignment gets tough, if we avoid or delay obedience…we disobey.
Any delay at all is disobedience. If we don't want to move out of our comfort zone because we don't understand God's purposes, sometimes we stall, wait for further instructions or say no. That puts us in control, not God. When we do that we, like Jonah, move away from God. We don't want to be close to Him because we aren't doing His will.  I love this quote, "One of the marks of spiritual maturity is the quiet confidence that God is in control-without the need to understand why He does what He does." –Author Unknown  We do not need to understand to obey!
3. We learn like Jonah, we can do it when God first speaks or after we run and suffer the consequences.
Either way, God wants us to obey. Jonah's assignment didn't change just because he chose to run. He still had the same assignment after the fish spit him out! So, we too can do it the hard way or the easier way. Notice I didn't say easy way. God's assignments are not usually "easy". But He is a God of second chances. Jonah got a second chance to obey, just like the Ninevites did (who by the way, repented when Jonah gave them the prophecy).  Jonah acknowledged his sin, accepted the discipline, asked forgiveness and acted on God's direction.
Priscilla Shirer gives us this formula in her wonderful Bible study Jonah: Navigating a Life Interrupted
Insignificant person + insignificant task= interruption
Significant person (God) + significant task= divine intervention
Divine intervention + yielded submission=eternal  significance
But if you read the story, you see Jonah actually got mad when God didn't destroy the Ninevites. He got mad at God's mercy!  Imagine that.
If God is our priority and we desire to do His will we will act when the "word of the Lord comes". (Jonah 1:1) And our only response should be what we see reflected in Oswald Chambers quote: "When God commands us to do something, we do not need to understand his directive we need to understand his authority.
What divine appointments have I missed because I ran from God?
Chris Adams
Senior Lead Women's Ministry Specialist at Lifeway
blog: lifeway.com/womenreachingwomen