This is one of my family's favorites for this time of year.   The crunchy romaine and the lemon are so refreshing.  Here is a "healthier version" recipe for a delicious caesar salad.  Hope you enjoy these 5 easy steps to a delicious meal!

Simply Caesar Salad
(Serves 4)
1 large head of Romaine lettuce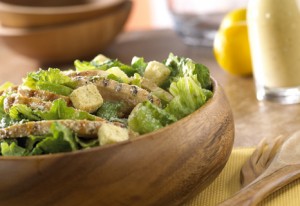 homemade croutons or a bag of Caesar style croutons, if desired
Dressing: 
1/2 cup freshly grated Parmesan cheese
1/4 cup olive oil
1/4 cup canola oil
1/4 cup lemon juice (juice from 2 lemons)
2 cloves of garlic
1 tsp. Worcestershire sauce
Instructions:
1.  Combine all dressing ingredients in a blender or food processor. Blend until smooth. Cover and refrigerate until ready to use, up to 2 days ahead. (Any dressing that's leftover makes a great marinade for chicken, fish or shrimp.)
2.  Rinse and tear or cut lettuce into bite size pieces.  Place in a bowl and chill.
3.  When ready to serve, combine lettuce and desired amount of dressing & croutons.
4.  Add sliced, grilled chicken breast or grilled salmon fillet to make a heartier meal.
5. Eat and Enjoy!!
Sandra