Looking for a quick, easy and delicious muffin recipe.  Here are two great ones. The easy part, you use Bisquick or your favorite baking mix for the "flour" which eliminates some of the measuring, ingredients, etc.  These would be great way to say "I am thankful for you" to family members, teachers, neighbors or friends! (My connect group girls loved them too!)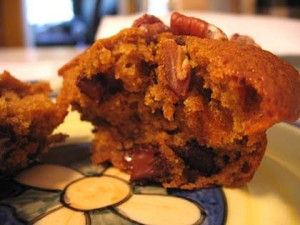 Pumpkin-Chocolate Chip Muffins
1 cup canned pumpkin
1 cup firmly packed brown sugar
2 eggs
1/4 cup vegetable oil
1 tsp. pumpkin pie spice*
1 cup semisweet chocolate chips
3/4 cup chopped pecans, toasted/optional
Line muffin pans with paper baking cups; set aside.  In a large bowl, combine first 4 ingredients.  Add baking mix and pumpkin pie spice; beat just until blended;  Stir in chocolate chips and pecans.  Spoon batter into prepared muffin pans; filling each cup about 2/3 full.
Bake in a preheated 400 degree oven for 14-18 minutes or until golden brown.  Serve warm or cool.  Yield: about 1 1/2 dozen
*Pumpkin pie spice substitution (1 tsp.):  1/2 tsp. cinnamon, 1/4 tsp. ground ginger, 1/8 tsp. ground allspice, plus 1/8 tsp. ground nutmeg.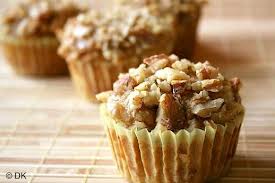 Banana Nut Muffins
1/3 cup vegetable oil
3 eggs
1 cup sugar (I use brown for better flavor)
1/2 tsp. vanilla
1 1/2 cups mashed, over-ripe bananas (2-3 bananas)
2 1/3 cup Bisquick
1/2 cup chopped, toasted pecans
Preheat oven to 400 degrees. Line muffin pans with paper liners.
Mix first 5 ingredients.  Add Bisquick and mix well.  Add nuts.  Stir until blended, some lumps are fine.
Bake muffins for 14-18 mins. or until golden brown.  Yield: 18 muffins
Sandra