God has redeemed you…and that's great news!  I want to spend some time remembering that this morning, by praying through Psalm 107.  As you read it, thank the Lord for what He has done and for His kindness.  Thank Him for redeeming and delivering you from your past life, sin, and death.  Cry out to the Lord over the things in your life that are troubling you. Then rest assured in the fact that we serve a God who listens and cares for us.
"O give thanks to the Lord, for He is good; for His mercy and loving kindness endure forever!  Let the redeemed of the Lord say so, whom He has delivered from the hand of the adversary…Hungry and thirsty, they fainted; their lives were near to being extinguished.  Then they cried to the Lord in their trouble, and He delivered them out of their distress."  (Psalm 107:1-2; 5-6)
——————–
The book of Hosea is perhaps the most beautiful love story of all time!  Stick with me for a moment.  God's redemptive plan in human history is no stranger to Scripture.  In fact, it's written all over the pages of both the Old and New Testament, from Adam all the way to Revelation.  I'm excited for you to see how Hosea fits into that plan, and how much God truly loves you!
Read Hosea 3:1-2 below and think about the following questions: What is Hosea instructed to do, and how much does he pay for his wife?
"The LORD said to me, 'Go, show your love to your wife again, though she is loved by another and is an adulteress.  Love her as the LORD loves the Israelites, though they turn to other gods and love the sacred raisin cakes.'  So I bought her for fifteen shekels of silver and about a homer and a lethek of barley." (Hosea 3:1-2 NIV)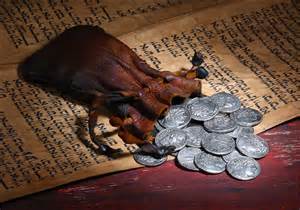 When a man wanted to marry someone during this time, he would pay the father of the girl a large sum of money called the "bride-price."  This was to ensure that the father would have enough money in case the man died and the girl was widowed.  Interestingly enough however, this is not what Hosea did; he only paid 15 shekels, a homer, and a lethek, which is about 30 shekels total.  According to Exodus 21, the price of a slave was 30 shekels of silver.
That's right…the price of a slave!  Gomer had prostituted herself out and was now a slave; Hosea literally went to where his wife was being sold, and bought her back.  Remember that the purpose of Hosea's task was to represent God's relationship to Israel.  The people had prostituted themselves out to other "gods," and now God would buy them back…and yes you read that right, He would BUY them back.  Let's look at a couple of New Testament passages and try to make sense of all this.  Think about the questions that follow each passage.
"Jesus replied, 'I tell you the truth, everyone who sins is a slave to sin." (John 8:34)
"Don't you know that when you offer yourselves to someone to obey him as slaves, you are slaves to the one whom you obey-whether you are slaves to sin, which leads to death, or to obedience, which leads to righteousness? But thanks be to God that, though you used to be slaves to sin, you wholeheartedly obeyed the form of teaching to which you were entrusted.  You have been set free from sin and have become slaves to righteousness." (Romans 6:16-18)
What do you think Paul's point was in the passage from Romans?
According to the above verses, being a slave to sin leads to what?
"Do you not know that your body is a temple of the Holy Spirit, who is in you, whom you have received from God?  You are not your own; you were bought at a price.  Therefore honor God with your body." (1 Corinthians 6:19-20)
According to this passage, you are not your own; why?
Just like Gomer and the people of Israel, we are slaves to sin; and just like Gomer, we were purchased as a bride.  On the surface, the story of Hosea may be a picture of God's love for Israel, but it also points to the overwhelming love of God in sending Christ.  You see, Christ is the ultimate redeemer!!  While we were living in sin, prostituting ourselves to the world and its values, Christ died for us.  He literally redeemed us from our life of slavery.  Scripture paints the picture of Christ coming down from Heaven and literally buying us back.  He didn't pay a mere 30 shekels of silver however, He paid with His precious blood!  Talk about an AMAZING love story!  Think about that today, and I pray that you begin to see just how precious you are to God and how much He loves you!