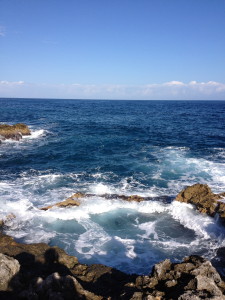 There comes that day when God calls you to step out onto the water – where faith and your attentiveness to Him are wholly required. After you take those first few steps, explosions of love for the people and places you encounter erupt. Your heart overflows and all you can think about is how you want to share everything about this experience with others you love.
And so this deep desire "to share" becomes a reality for the team that travels to Haiti in May of 2014.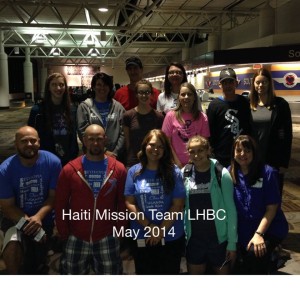 You call me out upon the waters.
To the great unknown where feet may fail.
And there I find you in the mystery
In oceans deep my faith will stand.
Originally planned to be a married couples trip, the design changes and opens the door for others to go. A mother and daughter, two best friends, and a woman, who God confirms over and over again that she must join the team. They complete the team in ways more profound ways than just the size.
For the couples that come, either the wife or husband has traveled to Haiti many times in the past. Their hearts have ached for years, waiting for the chance to share Haiti with their spouses. This week that dream comes true.
As I pray over each one of them, I am remaindered how sweet is the aroma of a team that God assigns to serve His good purposes.
Every day we share our stories, we visit the broken places of life and rejoice together at the splendor of redemption. The Liberating King triumphs over our past, inspires our present and gives abundant hope for the days to come. We collect holy moments in the bounty of our shared experiences.
Your grace abounds in deepest waters,
Your sovereign hand will be my guide
Where feet may fail and fear surrounds me,
You've never failed and you won't start now.
In our team-time we explore the need we naturally have to be in relationship with others and God. We take an assessment of our needs and it gives us language for what we know to be true. We tie the needs back to scripture and discuss how we can be loved and love each other better.
As a team, the threads of our common needs were acceptance, affection, and appreciation.
Acceptance: Receiving others willingly and conditionally, even when their behavior has been imperfect, and loving them in spite of difference that may exist between you. (Romans 15:7)
Affection: Expressing care and closeness through physical touch and through words such as "I love you" or "I care about you." (Roman 16:16 and Mark 10:16)
Appreciation: Expressing thanks, praise of commendation, particularly in recognition of someone's accomplishments or efforts. Gratefully acknowledging what someone "does." (Colossians 3:1b and I Corinthians 11:2)
As we understand our needs individually and as a team, we pray it helps us understand more closely the needs of the children. As Jesus fills our gaps, we go to fill the gaps for others – in Jesus' name, on His behalf.
Spirit, lead me where my trust is without borders.
Let me walk upon the waters,
Wherever you call me.
Take me deeper than my feet could ever wander,
And my faith is made stronger in the presence of my Savior.
For the week, we travel between two locations, Lundy and Emmanuel. We love all these children as if they our own. In many ways we claim them as if that are. While small in number, our arms extend with a supernatural ability to hold more kids at one time than we ever imagined possible.
We share stories with the children that bring them closer to God and His mercy, grace, faith, hope and love. From Peter's walk on the water to a woman with an alabaster flask weeping at the feet of Jesus. We plant seeds of truth, water them with prayer, and wrap them in worship.
Lynn and Cara bring to Haiti the gift of dance. In graceful moves they communicate the story of "Oceans" by Hillsong United and it leaves the children in awe.
Immediately an encore performance is demanded. Language barriers disappear in the rhythm of movement. As we watch them repeat the dance – tears stream and rest is found in His embrace.
It's hard to hold back the urgency I feel about sharing this place with those who have never experienced it. In Oswald Chambers' devotional, My Utmost for His Highest he says, " Some calls will be answered and some will never be heard."
I pray you will pause long enough to hear His calling. I also pray you will respond with a determination to go hard after it and venture deeper than your feet could ever wander on their own.
So I will call upon your name.
And keep my eyes above the waves.
When oceans rise my soul will rest in your embrace,
For I am yours – you are mine.
 Living to Serve,
Tami
Lyrics: Oceans by Hillsong United
Songwriters: Joel Houston, Matt Crocker, Salomon Lighthelm
Published by EMI Music Publishing