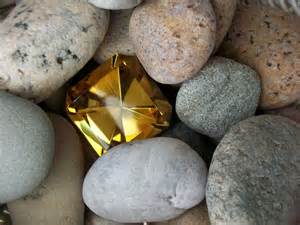 "Like a gold ring in a pig's snout, so is a beautiful woman who lacks discretion." (Proverbs 11:22)
The first time this verse ever stuck with clarity occurred during dinner one evening at my mentor's home. Her husband, our church's pastor at the time, called this verse to remembrance. He looked at me with a warm smile and said something to the effect of, "Regina I want you to remember that "like a gold ring in a pig's snout, so is a beautiful woman who lacks discretion." Needless to say I have rarely forgotten that warning/truth. It was the perfect time to hear such a Word. At the time I was quite young, dating a godly young man (my husband now), and these words were excellent to meditate on and are even to this day.
Many avenues of culture lack discretion. From women plastered on certain magazine covers to women excusing modesty for the sake of fashion (or any number of other irrelevant reasons) to women blurting out the first thing that comes to mind because "that's just the way I am." We all know that we ourselves on more than one occasion have also been women lacking discretion. I write you today, because I am certain this was not God's intention for us. Lack of discretion leads to sin. It is something that we need to deal with severely.
Lacking discretion is neither cute nor is it funny. It is ungodly, and the truth is it is sinful. When we sin with our mouths even if it sounds cute, it's not! When we sin with the way we dress our bodies even if we "look good," it's not good! When we speak a harsh or bossy word to our husbands, we are not simply "speaking our mind or sharing our feelings" we are sinning against God. That's the sin that is supposed to be killed daily.
Discretion must be present in all of our dealings & relationships. One of the most relevant places discretion needs to be found in our lives is in our friendships. Discretion can quickly be tossed to the wind when we get together with a good friend. For a few reasons I think. One we're comfortable, so we're more prone to say whatever comes to mind. Two, we think it's "safe" to share anything. Now mind you a good friend will be trustworthy. They will have more access than others into the details and private places of our lives, but that does not give us a safe zone to gossip, slander, spout our anger, course jest, and the like.
The access a friend is granted in our lives should have the intention to strengthen our character in Christ, our marriages, our parenting, and our lives in general. If the access you grant someone into your life leads you to lack discretion, wisdom, and propriety then perhaps that is not a healthy and/or needful relationship for you. We are to sharpen, not dull each other in the things of God.
Today my goal is just to offer up a simple reminder that a wise woman will take to heart-the biblical truth that lacking discretion cannot be overcome by any amount of physical beauty or charm. Beauty is wasted on the woman who lacks discretion, just as a gold ring is wasted when it is adorning a pig. Wisdom is the virtue here that is to be pursued (See Proverbs All). I encourage you to do just that today in every aspect of your life in Christ Jesus. Keeping this truth ever before you: 
If any of you lacks wisdom, let him ask God, who gives generously to all without reproach, and it will be given him. But let him ask in faith, with no doubting, for the one who doubts is like a wave of the sea that is driven and tossed by the wind. For that person must not suppose that he will receive anything from the Lord;  he is a double-minded man, unstable in all his ways. (James 1:5)
May the Lord's Word encourage you 
 Much love in Christ…