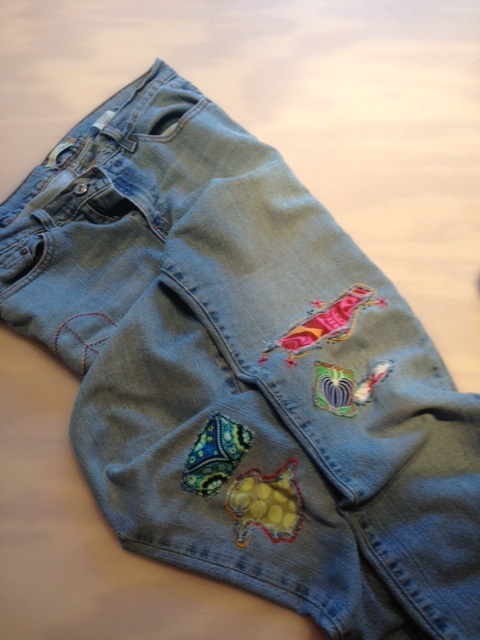 I have this fabulous pair of Levi's that I got when my oldest daughter was in high school.  That was 10 years ago and I can't let them go.  Recently I looked down to see my knees peeking through the worn threads of these beloved jeans.  Seeking a remedy without having to trash my favorite pair of jeans, I whipped out some brightly colored fabric scraps and began to embroider patches on them.  My son-in-law, Josh, came in to see what I was up to.  First words out of his mouth were "You know those patches are going to be stronger than the denim."   I replied, " I don't care – they look cool."
Later on I began thinking about those jeans and the patches.  I couldn't help but relate that to my own walk with God.  So many times in my life, I have had bad things happen, made bad decisions, done things that weren't quite right, and tears began to appear in my life – in my soul.  But oh how my wonderful God patched those tears and made me strong again.  Yes – just like my jeans – his patches are stronger than my worn out life, and He never fails to keep applying those healing scraps to my soul.  And just like my jeans – His miraculous patches are the really cool parts of my life. Watching God work through my messes, through my mistakes, through my tears is A-Mazing!  Let's face it, there's nothing cooler than a God thing.
So don't be afraid. I am here, with you;
don't be dismayed, for I am your God.
I will strengthen you, help you.
I am here with My right hand to make right and to hold you up.
Isaiah 41:10 (the Voice)