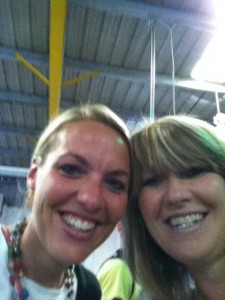 Called to GO! I'll never forget meeting Emily Routh for the first time in our hotel room in Ft. Lauderdale in route to Haiti. It was in the middle of the night. I took separate flights from the team due to jumping on board this trip two weeks before departure. What an adventure we were in for during the next week. God called me a year earlier to Haiti and I had resisted. Had I been resisting to GO for Him? My sweet husband and son had been out of the country some ten times to build churches in rural parts of Brazil. Wasn't that enough? And then on their most recent trip God worked it out so our daughter could go. Did I really need to go? Was I too closed-minded to hear His calling?
Finally in July of 2010 God knocked loudly on my heart. He had paved the way because when I called the church there was room for another person on the next trip to Haiti-and it was me! I didn't even ask or care who was going on the trip. God said to GO! God had predestined for Em and I to meet and share a room together. Like me, she was going without anyone from her family and had been praying for someone to join the trip that she could room with and experience this journey. Emily's husband, Jackson, had been earlier in the year to Haiti. Now it was Em's turn. So I show up and bam-we hit it off! Em told me later that when I got up to flat iron my hair at 4:00 AM she knew we were going to get along just fine. (By the way, don't take a flat iron to Haiti!) In fact, leave all of that girly stuff behind. I promise you won't miss it!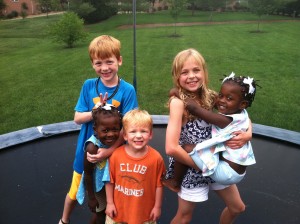 From the time we met until the time we departed, it was as if we'd known each other forever. There are so many stories from our trip, but the most important one is how God unified our hearts for the Haitian people, and especially the little ones in the orphanage. Em and I wanted to bring all of them home with us. After the trip to Haiti, God worked it out for us to be in small group together. That's when we learned that Em and Jackson were being led to adopt. My husband, David, and I were now getting to watch this unfold and unite in prayer with our small group for them as the weeks became months and the months turned into over a year.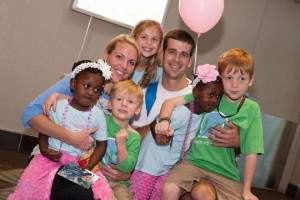 We were also called to help them financially. And 22 months later, after my first meeting with Em, I received one of the biggest blessings in my life when Jackson, Em and Anni (their daughter) landed in Nashville with two new additions to the Routh family. Two precious daughters from Haiti, Valencia "CiCi" and Jode Merline "Merli" that have joined the Routh family—now known as the "Jackson 5." Em and Jackson have three children: Anni, Maddux and Will Carter. Seeing all of them united for the first time was nothing short of a miracle. HE had this planned from the beginning! It was Him that placed Em in my life on the Haiti trip, put us in a room together, let us experience His light in Haiti as we loved on the children at the orphan village, intertwined our hearts while together in Haiti, organized the small group for us to be together, prompted Em and Jackson to adopt, and ultimately brought the girls home to Tennessee. Wow is all I can say!
God moved in the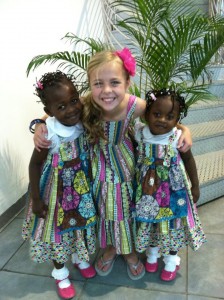 hearts of the Routh family and then He moved in the hearts of our family and brought all of us together for the purpose of honoring Him and living out James 1:24 … to look after Orphans and widows in their time of distress. So this is really about #LifeChange for two families. When we're prompted to GO somewhere completely out of our comfort zone. To meet and love others like you've never loved before. To give of yourself beyond what you could ever dream possible. "Red, Yellow, Black and White, they are precious in his sight. Jesus Loves the little children of the world."
Is God calling you to GO? Is He calling you to help others GO? Is He calling you to help others adopt? Don't miss the blessing He has waiting for you. Follow His calling!
Pam