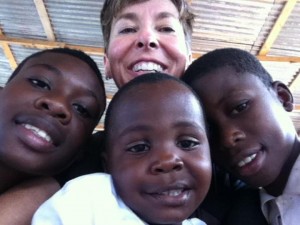 On a recent trip to Haiti, I was struck—not most by what vast differences there were between me and the people I met, but all that I had in common with these precious folks.
Obviously, we live in very different places.   Though my family would be considered mostly middle class in this country, I was incredibly wealthy compared to those I encountered.  I'm Caucasian; they're dark skinned.  I have a college degree.  Most of them hardly have any type of formal education.
The differences are vast, no doubt.
But…we are a LOT alike!
What do we have in common? Sin. Death. The transforming power of the gospel, of human touch, of a smile.  The language of music.  The joy of knowing Jesus.
We were challenged to not look on the Haitians with pity, but with the knowledge that the ground is level at the foot of the cross.
"Thank You, Lord, for the privilege of seeing You at work in the lives of people everywhere and the reminder that Your love, grace, and mercy are for everyone, everywhere!"
Vivian