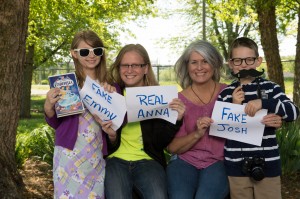 And so you are no longer called outcasts and wanderers but citizens with God's people, members of God's holy family, and residents of His household. (Ephesians 2:19)
I'm going to start off this blog with a confession.  I had already written the blog, saved it, but for some reason didn't send it.  Now I know why.  This morning as I lay in bed sound asleep, I got a phone call from our pastor.  A dad had died, and he asked if I would come and be there when they told the children.  Still in a stupor, I got out of bed and hurriedly dressed and drove to their home.  All of their family was out of state, and Mom had no one to be with her during this time.  So there I sat with our pastor and a couple of the deacons waiting for the girls to wake up; all I could do was pray that I could be of some help, some comfort to this family.  I buried both of my parents – way too young in my book – but not nearly as young as these young ladies.  I know how I felt, but how in the world would these children feel?
Poor Mom had to break this tragic news to her children as we all sat there numb.  The heartache was palatable in the room.  I prayed, "Lord, what can I do?  What can I say that can possibly be of any benefit to this family?"  They looked so wounded, so vulnerable, so alone.  I thought about this blog I had written.  You see this past Mother's day as all the families were having their pictures made on campus, I was left with only one of my daughters available.  I grabbed two kids from other families (thank you Meghan and Pam for the use of your children) and had my "fake" family picture made.  But here's the thing – was it really a fake family?
In I John it says we are deeply loved by God. When we turn and love those members of our faith family whom God loves, we are set apart and different from the world.
As I sat in that living room this morning, I kept telling this family "We're here for you!  You are not alone."  It is our job to be there for those we love in Christ, those who are our Faith Family, to pray for them, to get up at 4 a.m. and shoulder a heavy burden with them.
I can honestly say I said nothing profound; my presence is hardly worth mentioning.  I am honored to have had the opportunity to love on this family – part of my heavenly family.  A song my mom sang a lot when I was a kid was "Family of God" by Bill and Gloria Gaither.  I will never forget the high soprano sound of her voice belting out the words –
I'm so glad I'm a part of the family of God- I've been washed in the fountain, cleansed by His blood! Joint heirs with Jesus as we travel this sod, For I'm part of the family, the family of God. 
How fabulous it is to know that you are never alone.  God has adopted us into his family and we are all one, ready to spend eternity together.  He chose US to be a part of his eternal family and no one can take that away.
When we feel like we are not good enough to be loved by God, we should remember that God's love is greater than our doubts. We must silence the sounds of condemnation so we can hear the voice of God's loving assurance and remember that He has selected us to be part of His family. My loved ones, we have been adopted into God's family; and we are officially His children now (I John 3:2).
Your sister in Christ,
Carol