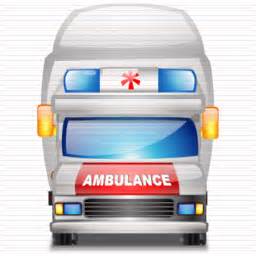 "We got ready at once…" (Acts 16:10)
Whenever a first response vehicle passes us on the highway, it has become a common practice in our family to pray for the person requiring the emergency service. Praying for their salvation, healing and medical attention, we respond by doing what we can…pray.
When the Holy Spirit spoke to Paul in a vision at night, his response was immediate!  Begging for Paul to come to Macedonia to help them, the man in the vision presented an urgent need.  The scriptures tell us, "We got ready at once."  Paul's response was immediate and intentional. He didn't need to consult with others first; check the scriptures to see if "it" lined up; or seek God for direction.  He knew this was God speaking to him.  His first response upon awakening was to "get ready."
While I'm not sure what the apostles had to do to get ready, one thing I am certain of is that they lived in such a mode that they:
Recognized God's call to them

Were committed to follow wherever and whenever
Had the resolve to respond without delay
The result of Paul's obedience was Lydia's conversion and members of her household.  Lydia's home soon became a meeting place for believers.  A meeting place which perhaps before this was only outside the city at the river's edge. (Acts 16:13, 40)
The result of Paul's obedience also included a slave girl being delivered from a demon and…Paul and Silas being severely beaten and thrown into jail.  But, included in this account of obedience results, is also the conversion of the jailer and his whole family!  (Acts 16:34)
Following God does not mean we will not suffer trials in sundry forms.  It does mean we will commune with Him as His children. "For as many as are led by the Spirit of God, they are the sons of God." (Romans 8:14)
Years ago our youngest son was involved in what appeared to be a very dangerous situation. Running behind our "run-away-truck", all I could do was call out the name of Jesus. Our 18-month old son's head could be seen bouncing back and forth as the truck  headed straight for an electric pole at the edge of a drainage ravine. Suddenly it swerved to the right of the pole, missing it by a fraction of an inch and coming to rest in the ditch.  Our son was safe, the truck was stuck, and passing-by motorists stopped to help.  The first one to respond was a gentleman who said, "I don't know if you go to church or are a praying woman, but this should make you want to call on God."  My response to him was, "Sir, I don't wait til I have an emergency to call on God, I stay in contact with Him all the time so that I am ready for such a time as this!"  God is our first response, last response and all that is in-between.
What area(s) have you experienced God calling you to respond at once?
Were you the responder or one to whom the response was needed?
Please share such a time with us…and "get ready at once" to follow Him.