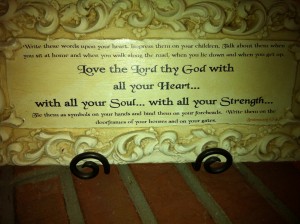 Sitting on the hearth in our den is a stone plaque given to us with these words engraved on it: "Write these words upon your heart. Impress them on your children. Talk about them when you sit at home and when you walk along the road, when you lie down and when you get up. Love the Lord thy God with all your heart… with all your soul… and with all your strength…" Deut. 6:5-9
My eyes were drawn to it this morning as I was sitting quietly before the Lord. I was reminded how important it is to study and memorize God's word. However, studying and memorizing is not where it ends, I must apply what I learn to everyday living!
Jesus was asked by the Pharisees, "Teacher, what is the greatest commandment in the Law?" He replied, "Love the Lord your God with all your heart and with all your soul and with all your mind." But He didn't stop there! He continued by saying, "The second is like it, 'Love your neighbor as yourself.'" Matt. 22:37-39
I begin to consider how I was doing living out these verses. Some days I do better than others. What about you?
It was pretty clear for me, today's assignment, practice the above!
Long Hollow Women's Ministry exists to meet women where they are and help take them to where God wants them to be as fully devoted followers of Christ. We want to walk alongside each other helping and challenging one another to become more like Christ.
Today we begin studying the New Testament in Chronological Bible study.  Come join us and learn more about what it means to follow Christ. We meet each Tuesday at 9:30-11:30AM and 6:30-8:30PM through December 4th. Childcare is available.
Julie