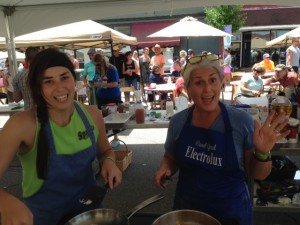 I live in the fun little metropolis known as Springfield, Tennessee. Each year our town has this amazing event called The Taste of Country. It's a full day filled with food, music, food, games, food, vendors… did I mention food? Traditionally there is always some type of cooking competition on that day. This year was the first ever Chopped Challenge. For those of you who have never watched the show on Food Network, it goes something like this. Four chefs are assigned work stations and are given a basket of "mystery ingredients". They open those baskets and have a set amount of time to make a dish featuring the items in that basket. There is a pantry of other items but every item in the basket must be used. I LOVE this show and have seen every episode multiple times, so I was pumped when asked to be a contestant.
The week prior to the competition I was asked numerous times "What are you going to fix?" I had to explain that I had no idea since I had no idea what the ingredients were going to be until I got there. That answer was always met with incredulous looks that implied I was crazy. The morning of the competition I arrived along with my sous chef, my daughter Emmy, with great anticipation of what lay ahead of us. We got to our station, unpacked our knives and machete (yes machete – see my previous blog) and got ready to open our basket. Greeted with ½ a chicken, beef jerky, apple cider, and fresh herbs, the wheels started turning. In 45 minutes, I had to produce an appetizer out of those 4 ingredients. The mystery was over. I just had to decide what to do next.
Every day is a mystery basket. When you wake up in the morning you have no idea what ingredients are going to be available to you. Are they something comfortable and familiar or something totally foreign? The way you handle your basket defines who you are.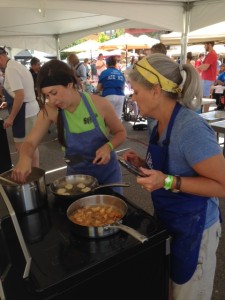 1. First off, are you even prepared to open your basket? Before the competition, I watched cooking shows, I studied recipes, I ran scenarios in my head. The same thing goes for real life. Time spent in Bible study, praying, and memorizing scripture totally prepares you for life. I keep verses taped to my computer screen at work. When things get rough, I just start reading through my little group of verses and things take on a new perspective. I remember as a child my Mom training me to claim the blood of Jesus when Satan overwhelmed me. She prepared me to open my basket.
2. Do you open your basket, throw up your hands and walk away? Are you totally defeated without trying? How do you handle a tough basket? I have to admit the beef jerky instilled great trepidation in me. I simply couldn't think what to do with it. Thank goodness my sous chef was there for me. Emmy came up with an idea and it worked. When your basket is tough – the best thing you can have is a support system. People who are there to help walk you through life's tough times. I can't imagine not having family and friends that I can call and at a moment's notice drop everything for me.
3. Do you think there's not enough? Not enough money, not enough faith, not enough knowledge, not enough time? Unlike the show where only 4 dishes are served, we had to produce 54 bite size portions. Try doing that with only ½ a chicken. Remember the feeding of the 5,000? Jesus took 2 fish and 5 loaves and fed 5,000. I remember chanting "loaves and fishes" the whole time I was cutting up that chicken. That's what's called faith. Just like God tested Abraham's faith, there are times he's testing yours. If everything in your life comes easily, how can God show himself in such dramatic ways? There is nothing more exciting than seeing the hand of God at work.
4. Do you plunge into that basket head-on knowing God's got this? My parents were two of the most optimistic people ever. Their lives were not easy. We didn't have a lot but they still gave a lot knowing God would take care of them. They didn't care if the glass was full or empty – just grateful for the glass. I feel so blessed to have just a tiny bit of their optimism instilled in me. I will admit I was a bit nervous the morning of the competition but it boiled down to this. What is the worst thing that could happen? I produce an inedible product? If so, I would laugh and go on. So many times we spend time worrying about the what-ifs and we are totally missing out on God's plan. Plunge into life and enjoy all that God has given you. He has such a tremendous design for your life. You just have to accept it head on and know He's always there.
Did I win – no. However, God gave me an awesome experience I got to share with my friends and family, and hopefully I honored Him with an upbeat attitude and willingness to use the talents He gave me. Carol