When I was a young girl, my brother who was 12 years my senior, decided it was his task in life to make Christmas difficult for me.  Every year, I would pull his gift from under the tree with trepidation.  His whole goal every Christmas was to make my gift difficult to open.  It started with masking tape then moved on to duct tape.  Then there was the year I got the hammer and not just a hammer but a big wooden box that had been nailed shut.  Yes, my friends, I had to beat and claw my way to my gift that year.  Oh wait, there's more.  The next year I was presented with an iron box.  My brother had welded my gift shut.  I had to get the brother with welding skills.  He finally presented me with a ratchet which allowed me access to what was inside.  Did he aggravate me?  Of course.  But in the end, I know it was all done in love.  It takes a lot of thought and effort and amazingly, love, to weld someone's gift shut.  And isn't that what Christmas is all about?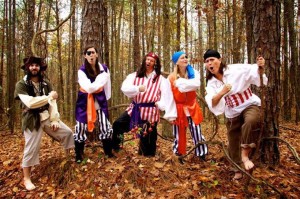 Flash forward to my own family.  It's customary for our family to do a somewhat unconventional Christmas card.  I spend months (yes months) on costumes, props, and the perfect wording.  It's totally top secret until those cards hit my friend's and family's mailboxes.  I'm obsessive about it.  It's totally weird and insanely crazy, but it's our gift to everyone and it's given with pure love.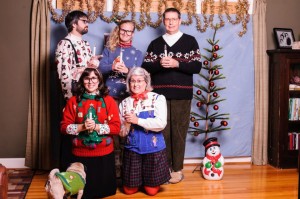 We all show love in different ways.  My family is a little unconventional.  The truth remains that nobody shows us love like God does.  Rewind to that manger where that precious baby, Jesus, was born.  That was true love.  That was undeserved love.  Imagine giving a gift that you knew people would hate.  Would you bother?  But that's exactly what happened on that night.  God gave us Jesus knowing that he would be hated, ridiculed, and finally killed.  God, showing us love in its purest form, gave us Jesus.
As you go through this holiday season, don't forget to show love as God intended.  I Corinthians 13 is typically not thought of as a "Christmas passage," but as I read it recently I couldn't help but think how it truly describes the love that was born 2,000 years ago on that starry night in Bethlehem.
If I speak in the tongues of men or of angels, but do not have love, I am only a resounding gong or a clanging cymbal. If I have the gift of prophecy and can fathom all mysteries and all knowledge, and if I have a faith that can move mountains, but do not have love, I am nothing. If I give all I possess to the poor and give over my body to hardship that I may boast, but do not have love, I gain nothing.
Love is patient, love is kind. It does not envy, it does not boast, it is not proud. It does not dishonor others, it is not self-seeking, it is not easily angered, it keeps no record of wrongs. Love does not delight in evil but rejoices with the truth. It always protects, always trusts, always hopes, always perseveres.
Love never fails. But where there are prophecies, they will cease; where there are tongues, they will be stilled; where there is knowledge, it will pass away. For we know in part and we prophesy in part, but when completeness comes, what is in part disappears. When I was a child, I talked like a child, I thought like a child, I reasoned like a child. When I became a man, I put the ways of childhood behind me. For now we see only a reflection as in a mirror; then we shall see face to face. Now I know in part; then I shall know fully, even as I am fully known.
And now these three remain: faith, hope and love. But the greatest of these is love.  (I Cor 13)
Merry Christmas!
Carol