Dear friends, Momentum is almost here! I'm asking you to join me in covering this event in prayer. We are asking God to move mightily among us. Below is a prayer guide that you can use as a prompt for your time with the Lord: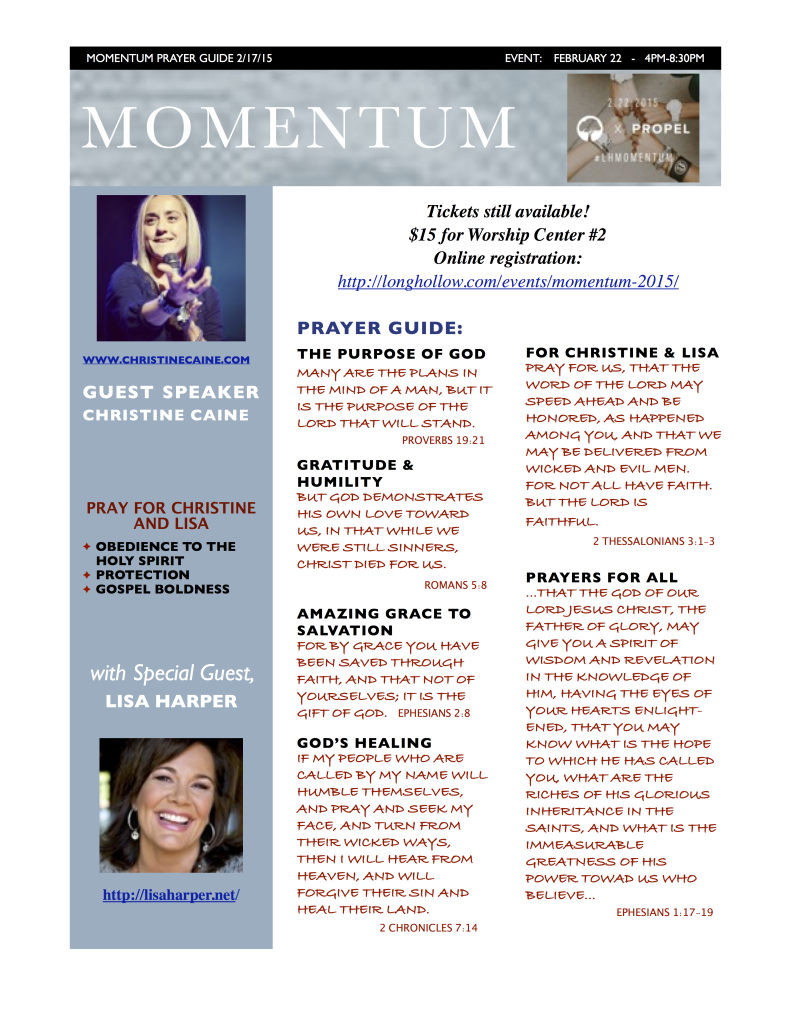 In addition to these important points of prayer listed in our prayer guide above, I'm going to point out the obvious & say we need to call on Jesus, the One "the winds & the sea obey" to make the weather favorable this weekend! Pray specifically for safety as Christine & Lisa make their way to Hendersonville. Pray for snow and ice to just be gone! Pray for women to be so ready to see God do the miraculous among us that neither cold nor rain could not keep them away.
We know God has arranged something so powerful for us this weekend; for us to see His glory. Our desire is to see Him high and lifted up – and He will receive all praise and honor for what we see Him do!
We still need volunteers to host over 3200 women! If you would like to volunteer to help, you can do so here:
https://longhollow.wufoo.com/forms/volunteer-signup/
Limited tickets are still available in Worship Center 2. If you've not purchased yours yet, you can do so here: http://longhollow.com/events/momentum-2015/
I'm expecting BIG things because we have a BIG GOD! Counting on you to pray with me.
Love,

"Now to him who is able to do immeasurably more than all we ask or imagine, according to his power that is at work within us, to him be glory in the church and in Christ Jesus throughout all generations, forever and ever! Amen." Ephesians 3:20-21