Since then, you have been raised with Christ, set your hearts on things above, where Christ is, seated at the right hand of God. Set your minds on things above, not earthly things. For you died and your life is now hidden with Christ in God. (Colossians 3:1-3)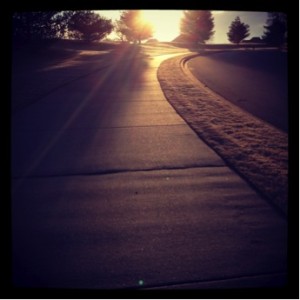 In that transforming moment on the Damascus road, Paul gets God's plan and immediately begins to live out the paramount truth of it. He endures many trials and relentlessly presses through all of them to make the Gospel known.
Knowing the Truth, Paul can't help himself. 
There's no other option.
Paul's letters contain his reflections on past failures and shortcomings. He compares the old life without Christ to a new one in Him. He draws parallels between what Christ experienced and what will happen in the life of His followers.
Paul repeatedly reminds us that what God did for Christ, He does for those who believe in Him.
By grace through faith, that's how it works.
Have you met Jesus on your Damascus road?
Are you living like you know the difference between who you were and who you claim to be now in Christ?
Does the knowledge of the truth compel you to make the Gospel known?
As this New Year begins – invite God to reset your heart and breathe a brand new revelation of Who His in to your whole heart, mind, and soul.
Read this passage below aloud until it falls from your lips to your heart.
Insert YOUR name in the blanks.
Ask God to reveal the reality of your past depravity and the miracle you are today because of the blood and righteousness of Jesus Christ.
Ephesians 2:1-10
"______ was dead in transgressions and sins, in which ______used to live when ______ followed the ways of this world and of the ruler of the kingdom of the air, the spirit who is now at work in those who are disobedient.
_______ lived among them at one time, gratifying the cravings of sinful nature and following its desires and thoughts.
Like the rest, _____ was by nature objects of wrath. But because of his great love for _____, God, who is rich in mercy, made ____ alive with Christ even when _____ was dead in transgressions—it is by grace _____ was saved.
And God raised _______ up with Christ and seated ______ with him in the heavenly realms in Christ Jesus, in order that in the coming ages he might show the incomparable riches of his grace, expressed in his kindness to us in Christ Jesus.
For it is by grace  ______ has been saved, through faith—and this not from ______, it is the gift of God— not by works, so that no one can boast.
________ is God's workmanship, created in Christ Jesus to do good works, which God prepared in advance for _____ to do".
Knowing the Truth changes you.
I pray that as it does – you will be like Paul and live like there is no other option but to share the saving truth about Jesus Christ. You've been called to be part of His plan to redeem this world. Whatever you do, don't miss it.
Living to Serve,
Tami