I had run out of cotton balls!  Drat!  I know that doesn't sound like such a big catastrophe, but you have to understand, I use them every night to clean my face.  If I run out, I have to use…. Gasp…. A kleenex or worse, toilet paper.  Those items just do not work at all.  You end up with scraps of tissue all over your face and I feel like that little bear in the Charmin commercial.
When I finally remembered to buy some, I was joyfully cleaning my face and immediately said a little prayer.  "Thank you Lord for cotton balls."  Do I think He cares about my cotton balls?  Absolutely!  I think He rejoices any time we're happy and take the time to thank Him – even for the smallest, most mundane thing.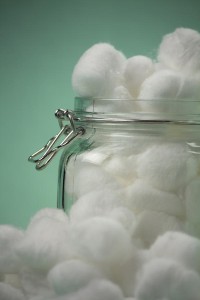 Psalm 149:4 says "For the Lord takes delight in His people."  Because of this, I can't help but think maybe God gets a little chuckle out of those absurd things we say or do.  (I figure I probably make Him laugh quite a bit.)  One of the main reasons we had children was for entertainment.  How many times has a child said something hilarious to you in all seriousness and you had to bite your lip to keep from laughing?   I honestly lived for those moments and to my kid's chagrin often tell the stories.  Just like I enjoyed my kid's antics, God enjoys your life.  God wants your attention 24/7 even if it's for something so silly and small as a cotton ball!
"Thank you Lord for all the attention you lavish on us.  I'm so grateful you care about even the smallest things in our lives!"