It wasn't until God bestowed the blessing of motherhood on me that I could really understand the divine power behind forgiveness & love. Neither is easy, but both are a blessing to the giver & receiver.
One of my favorite baby shower gifts I received was a box of cards to jot down all the cute (& not-so-cute) things my children do. I kept this up for a while & then, inevitably, they were shelved & forgotten. My OCMD (Obsessive Compulsive Mommy Disorder) really fretted over this…until God gave me His clarity: Would I really forget how wonderful & precious my children were? No! Did I really need to remember the sins against my sanity they committed (the unmentionable potty 'accidents', etc.)? No! In Hebrews 8:12 we are told, "Their sins & their lawless deeds I will remember no more." Why? Because Christ loves his children!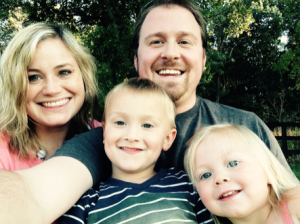 If I woke up & went to bed every day reflecting on the things my children did that didn't please me (especially when they "know better"), I wouldn't love or appreciate their transformation into a new creation in Christ. I have an opportunity to show Christ's love to my children DAILY by loving them & using their messes & mistakes as an applicable lesson toward life.
Psalm 86:15 says, "But you, O Lord, are a God merciful and gracious, slow to anger and abounding in steadfast love and faithfulness."
Ladies, what if instead of focusing on how we'll share embarrassing pictures & stories of our children to their future love interests, we focused on presenting them in love & pride to Christ? What if we strived to turn their messes into masterpieces & their mistakes into victories? In a society that waits in the wings to mock us when we mess up or encourages us to do so for entertainment, shouldn't we be focused on modeling Christ's behavior?
intouch.org is a great resource for parents on teaching children to focus on God. Visit the 'Connect at Home' section for ideas on everyday Biblical lessons.