I love my local grocery store!! It just has the most fun cashiers and baggers ever, and they even walk you out to the car!! With two precious kiddos, it doesn't get much sweeter than that. We frequent the store so we recognize nearly everyone and what's more they recognize us, that's how you know you're a regular! "Grandpa" Joe and "Grandpa" George are our grocery store pals and we love them with the same fondness as family.
Their faces have wrinkles in all the right places. They're crinkled up with charming smile lines and deep creases in their foreheads that I know are due to raising their eyebrows with interest in whatever you might be saying at the moment. George vaguely reminds me of Mr. Rogers, and Joe reminds me of what I think Santa Claus would look like if he were in shape. I saw the guys as recently as today. I suppose you might be wondering who in the world would take such a deep interest in the local grocery store workers…That's a fair question considering the fact that the whole lot of us are so used to being served that we rarely engage any longer with those helping us. The following verses sum up why I find it not only a joy but a call to love these "Grandpas" and many others too.
2 Corinthians 2
15 For we are the aroma of Christ to God among those who are being saved and among those who are perishing, 16  to one a fragrance from death to death, to the other a fragrance from life to life. Who is sufficient for these things? 17 For we are not, like so many, peddlers of God's word, but as men of sincerity, as commissioned by God, in the sight of God we speak in Christ.
You see as kind as Joe and George may be to us every week, (hmmm,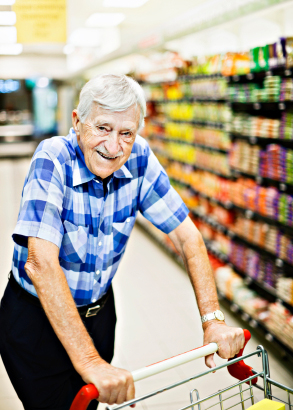 sometimes every day, haha); the fact is despite whatever lip service I may get about going to church here or there, I don't think they know Jesus from Adam. For me it's just another day picking up a bunch of bananas or grabbing a few more veggies for dinner, but for them there is a countdown clock raging much faster than Philip Randoll's. This clock is not propelling them toward the grace of eternal life in Christ Jesus, rather it's pushing them down into the pits and edging them closer to the loss of life forever. That is not news to trifle with lightly. Scripture is overwhelming clear that we are "the aroma of Christ." We are, with love and sincerity, to share more than a "hey, how are you?!" We are to offer a cup of cold water in Jesus' name….water that will become to the lost LIVING WATER.
As it is most of us will feel a tinge of conviction by this testimony, but will never allow it to move into sharing as you go way of life. BUT what if you take this challenge, a challenge to let your lips speak as freely about Jesus and His glorious Gospel as they do about TV. What if we started sharing Christ as a part of our daily routine out of the overflow of what Jesus is doing in our lives as we read His Word and seek Him daily?
I think the local grocery store and everywhere else would start to smell a good bit different if we did…it might start to really take on the aroma of Christ in every place.
With love in Christ,
Regina