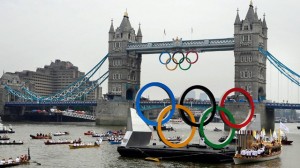 Are you as into the Olympics as much as I am? I cannot wait for 7:00 pm to get here each evening so that I can watch it. As much as I enjoy watching the Olympics on TV, following along on Twitter may be even more fun! Here are some tweets from people I follow commenting on the events last night:
"Who cares about his pommel horse score? His hair alone could take gold." #respect #LouisSmith #GreatBritain
"I might've just pulled a hamstring working out on the elliptical while watching the Olympics. Fluffy middle-aged wannabe!"
"The 'Olympic proposal between athletes' exists to make the rest of us hate our own stories." #Olympics
"Okay, if you don't feel happy for that 15-year old Lithuanian, check your pulse." #Olympics
And on and on it goes throughout the evening! I laughed my head off at the tweets that came every second during the competition and the reporter's questions afterwards!! Everyone was freely sharing his or her opinions.
What I hate most is when I get breaking news on my phone from USA Today that gives away the medal winners in the middle of the day! Oh well, such is the world of technology!
Enough Olympics talk! Things are ramping up at Long Hollow for an exciting Fall! There are a lot of opportunities for women to plug in and grow. I hope that you take advantage of the things that are offered. You can find out more information under the "Women in the Word" tab at the top of this blog post!

Midnight Train is this Friday night. If you volunteer or want to volunteer at Long Hollow in any area, this evening is for you. Find out details and register here.
PLEASE HELP US GET THE WORD OUT ABOUT ALL THE EXCITING OPPORTUNITIES FOR WOMEN AT EVERY AGE AND STAGE IN LIFE.
Here's how:
Post your favorite blog posts to your Facebook wall! Tweet about new Bible studies and what God is teaching you! And retweet our upcoming events! All of these are HUGE ways we can spread the word! Use #lhwomen when tweeting about us and make sure you follow us. Click here if you don't yet!
Make a phone call and invite a friend to come with you. There's nothing better than a personal touch to someone. Be the hands, feet, and voice of Jesus to someone in your life today.
What would happen if 1,000 women joined together for fellowship and to study God's word together this Fall? It can happen with your help!
Julie