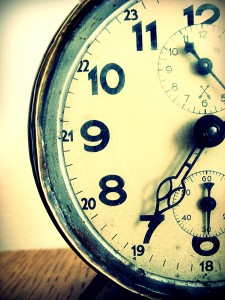 What do rush hour traffic, doctors' offices, & standing in line all have in common? Waiting! I'm taking a poll…how many of you like to wait?
I think I'm a pretty patient person until I have to wait in standstill traffic. That drives me up a wall!
Come to think of it, I don't like waiting much at all! However, it seems that I find myself in waiting periods many times in my relationship with the Lord. Anybody else? Yesterday I was talking to a friend at church who has been going through an overseas adoption and it seems like the whole process has been "hurry up and wait!" We both agreed that although the process of waiting is never fun, there is always much to learn in the wait.
Here are a few things I've learned during waiting periods in my life:
God's timing and my timing are different!
God allows me to go through waiting periods to teach me more about trusting Him.
God is always at work even when I can't see what He is doing.
It's never good when I try to force something to happen because I'm tired of waiting!
God's way is always best even if I have to wait!
Psalm 27:14 says, "Wait for the LORD; be strong, and let your heart take courage; wait for the LORD!"
This one thing I know: waiting on Him is worth the wait. I heard someone say one time, "God is never late, but He sure does miss a few good times to show up early!" Amen to that! If you find yourself waiting today, use the time wisely.  As Pastor David reminded us yesterday, "Seek first the kingdom of God and His righteousness and all of these things will be added unto you."
ONE THING YOU DON'T WANT TO WAIT ON IS PURCHASING A TICKET TO MOMENTUM!
Join us and be challenged by the world-renown, hilarious, and passionate Christine Caine from Hillsong Church in Australia. She and her husband Nick have also founded The A21 Campaign, an anti-human trafficking organization that fights slavery around the globe. Christine has a heart for freeing captives, both physically and spiritually, but ultimately it comes back to her primary focus: building the Church.
Ladies, you do NOT want to miss this! HALF PRICE TICKETS ARE ONLY AVAILABLE THROUGH TOMORROW ONLINE. Physical tickets will be available on all campuses every Wednesday and Sunday until the event beginning this Wednesday.
Purchasing a ticket online has never been easier! You can do it here!
Have a great week!
Julie