Wrecked—Won't you Come?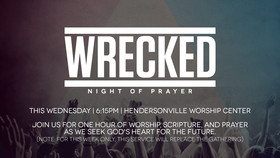 Ladies, I am writing to make sure you know about an important prayer service tonight at the Hendersonville campus.  It's called Wrecked—A Night of Prayer.  It begins at 6:15 in the Worship Center.
The church intends this to be a time of worship and prayer for the church and what's next.  In the coming months, Long Hollow will embark on new and exciting things with God.  Some of those things are planned, but more importantly, our leadership is asking for us to come alongside and PRAY.  (Time out for a quick side note—aren't you grateful that we are under the leadership of such Godly people who ask us to pray like this?)
Won't you come?
Regardless of whether you can attend, let me invite you to concentrate some time today on the following verses:
"Now to Him who is able to do far more abundantly beyond all that we ask or think, according to the power that works within us, to Him be the glory in the church and in Christ Jesus to all generations, forever and ever, amen."
–Ephesians 3:20-21
As believers in Christ, WE have His power in us through the Holy Spirit.  Therefore, in Him, we are able to do far more than we can even contemplate, much less ask Him for!  According to the text, God gives us this power for the following reason:  His glory through Christ in the church and to all generations!
Doesn't that fire you up, Long Hollow?
So, please join me and ask HIM:
(1)  Lord, show me your power as a believer in Christ.  Let your Holy Spirit testify within me to remind me of your power.  (Romans 8:16) Renew my joy at my salvation.  (Psalm 51:12)
(2)  Lord, multiply our individual and church-wide efforts to an abundant harvest for the kingdom of God like you describe in Ephesians 3:20-21.
(3)  Lord, blow our minds and exceed our prayers like you talk about in Ephesians 3:20-21.
Marisa