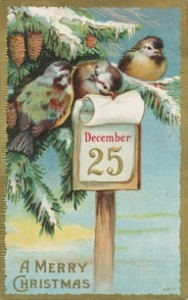 Christmas simplified once and for all…forever and ever amen! Every year right about this time I say to myself…THIS year is going to be different! We're not going to get swept up into the Christmas tornado of running too much, spending too much, wanting too much, and forgetting too much. We're not going to miss giving back, miss Christmas stories, miss Christmas movies, miss  giving gifts from the heart, and miss  the real meaning of Christmas because we're running, spending, wanting, and forgetting.
This year I'm taking control! Here are some of the ways our family is going to really simplify Christmas this year.
The first thing I decided to do is to truly celebrate the 12 days of Christmas, not the 30 days! By condensing what we do and when we do it down to the last 12 days before Christmas, I found that the kids have a lot more excitement and genuine anticipation. These 12 days are going to be filled with magic and a true reverence to what Christmas is all about.
1. A Family Devotional for the 12 Days of Christmas
First, we've got to get into the true spirit of Christmas by getting our minds wrapped around what it's all about. Everyday on the 12 days of Christmas, we'll receive a free family devotional by email. This should do it. Whether you decide to start the day with it or wind up the day with it, reading with your kids and sharing truth about this season will help you simplify Christmas. To check out The 12 Days of Christmas Family Devotional, click here...but wait…there's more.
2. Cozi Central…my best friend in the hope to simplify Christmas! This is a free service to help organize and simplify life. No smart phone should be without Cozi. To simplify Christmas, I have my shopping list right there. I never waste time looking for that piece of paper that I wrote everything down on. I never get frustrated because I can't remember what the kids said they wanted so-o-o-o-o bad for Christmas. As they're telling me, I'm jotting it on my list. (They think I'm checking email.) It's all right there in front of me…as long as I don't lose the smartphone, of course. To find out more about Cozi Central, click here.
3.  Set a roundabout budget
I'm not one to set an exact amount for Christmas (anymore anyway). It takes the magic out and replaces it with stress to "stick to budget!" I do think it helps to simplify Christmas, however, to just jot down basically what you feel you need for gifts, food, and events. It's all about the mental picture that we can store in our heads, helping us to make better decisions as we go along. With my Cozi Central List, I can easily estimate what I'm going to spend on gifts.
4. Stop all other projects before your 12 Days of Christmas begins!
The wintertime is my favorite time for home projects. I was notorious for starting some major project right before Christmas, making a huge mess in the house, then trying to decorate around it, rush to get it all done, and end up causing so much stress that I totally missed out on the magic of Christmas. This year, all home projects will cease before our 12 days of Christmas begins. I've made a pact that those days are strictly for family, friends, and Christmas fun.
5. Celebrate the 12 Days of Christmas…THIS is my favorite part!
It took me about one hour, the other day, to completely plan out our family's 12 days of Christmas! The most important part will be…
Giving…in the spirit of Christmas!
Each day I have one act of giving planned for our family. (Tune in to read about how they all turn out.) They are very simple things, but my hope is that by planning them and carrying them out, our family will get to spend lots of time together over the holidays, will meet new interesting people, will learn to be assertive, will learn to love giving, and will truly grasp what Christmas is all about.
Crafts for the 12 Days of Christmas
On several of our nights, we'll have a Christmas craft planned. I looked at the list of crafts that I found and I think I can do it all for about $20 bucks! Yay! (Tune back in to see how they all turn out!)
Christmas movies!
Plan ahead…that's the name of the game for having the best Christmas movies on hand. So many times I've remembered a classic movie the week after Christmas and thought…man, we never did get around to watching that…and now it seems weird. If you don't already have Netflix, this is a great time to jump in. They have a fantastic list of Christmas movies…some I'll bet you've never even heard of. I've been pleasantly surprised at how much the kids love old, classic ones. Who knows, it might just open up a whole new world for your family.
Here is a list of the Definitive Top 12 Christmas movies for families:
–      It's a Wonderful Life
–      Miracle on 34th Street
–      A Christmas Story
–      A Christmas Carol
–      Elf
–      A Charlie Brown Christmas
–      How the Grinch Stole Christmas
–      The Santa Claus
–      Home Alone
–      White Christmas
–      Muppet Christmas Carol
–      Scrooged
A Christmas Eve Gift
On the 25th, we'll have a special Christmas Eve gift for the kids. It'll be one package wrapped up beautifully with a special note from Mom and Dad. In it, the kids will find a new pair of pj's, some popcorn, some hot cocoa with a new C
hristmas mug, and a Christmas movie. I'm really looking forward to that night when all is said and done and we can all sit back, snuggle up, and think about our 12 days!
What's the most important thing to remember when trying to simplify Christmas…
–      Take a couple of quiet hours one night  to write down what's most important to you during the upcoming Christmas season, then plan out specific events and activities on your calendar. Two hours will change your entire experience.
–      Do your best to turn everything else off for the last 12 days. You'll be so glad you did and next year, you'll hold those days even more sacred once you see what it does for your family.
Merry Simplified Christmas!
Kelly Breece
You might also like:
All I Want for Christmas is a Can of Silver Spray Paint
I'm Going to Print Out our Text Thread and Give it as Gifts  this Christmas