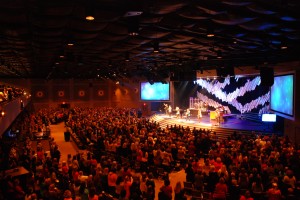 The event Momentum 2013 is in the books but my, oh my how momentum from the event continues! We have heard from so many of how God spoke to them. And if that is not enough, could we celebrate the 22 decisions made? Twelve women decided to follow Christ for the first time and ten made decisions to get their baptism on the right side of their salvation! Can someone say Amen?
Speechless is the only way I can describe about how I felt Sunday night. I don't get that way much, but I was overwhelmed at what we saw God do.
These things will forever be etched in my memory:
• 1500 women worshiping
• "God may or may not provide the ram be He promised to provide the Lamb!" Angie Smith from Genesis 22
• Tips on Daring to Build Relationships (we'll post those on our Facebook page tomorrow!)

• One woman coming up to me after Julie was baptized, while Nick was still talking, and saying, "I've been contemplating this for a while but I've got to get baptized tonight!" I said, "if you can hang on 5 minutes we're going to have an invitation and you CAN tonight!!" She was about to burst!
• Women moving immediately to make decisions when the invitation was extended without hesitation!
• Puffy Muffin chocolate cookie ☺
Here are some of the comments we've heard:
I don't know about you ladies, but I could you a great ngiht like tonight once a month!!! ~Michelle H.
Thank you long hollow baptist I enjoyed tonight! I got spiritual uplifted and learn alot. I loved it!!!! Thank you for doing this for us! ~Cathy G.
I can't even begin to express how blessed I was tonight. Thank you, thank you, thank you! ~Pam H.
Best women's event ever! Thanks for all your hard work!! ~Melissa F.
Thank you for tonight! It was a precious time with friends and family worshipping God and setting fears aside for Him! ~Kristen F.
What an amazing night at our Women's Event last night! Everyone who spoke was such a blessing. ~Amy C.
Awesome event last night! Thank you for everything! ~Becky B.
All of this fires me up for Momentum 2014!! Mark your calendars now for February 9, 2014. Be thinking and praying for friends to invite now!
Dare to Move was just the beginning of moving beyond our comfort zones to do what God is calling us to do. May we as Long Hollow Women be women on mission daring to build relationships as we go. Remember, we are on the same team! Together we can push back darkness!
New Bible studies started today! Check out those being offered here.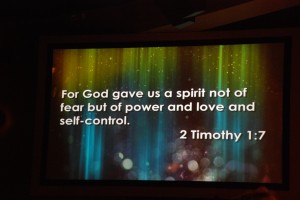 Reflecting on the message Angie Smith shared with us Sunday night. She gave this definition of fear: "Fear is acting out of our limited view of what provision is." Our challenge is to remember He has already provided! We can walk boldly knowing that no matter what is going on in our life, "He sees."
"God has not given us a spirit of fear, but of power and love and self-control." 2 Timothy 1:7 May we walk with boldness on our journey.
Julie